Sep 19, 2012
|
Permalink
|
Email Article
| |
Post a Comment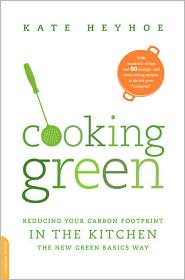 Every time I pick up Kate Heyhoe's insightful guide to cooking like it matters, I learn something new. Just now, I learned how to use my energy-hog oven less by baking casseroles in two pie plates instead of one big casserole dish. I re-read the section on Super Soakers: food you just pour water over, let hydrate for few minutes, and then eat. Very little or no heat required! Kate had already inspired me to try bean thread noodles. This time, I'm going to pour hot water from steaming vegetables over sweet potato noodles (Koreans call them dang myon), let them soak while I eat lunch, drain them, and then serve them under braised vegetables for dinner.
Kate's mission is to help us shrink our carbon cookprint, which she defines as "the entire chain of resources used to prepare meals, and the waste products produced in the process." With humor and warmth, she encourages us to make simple changes that add up:
Use "assembly-line blanching" to cooking snow peas, broccoli, noodles, and potatoes in one pot and with one potful of water, and then use the cooled water for your plants or for the birds
Bake in the toaster oven instead of the big oven
Let food coast to doneness by cooking passively a still-hot burner that's been turned off
Make greener ingredient choices, such as using fast-cooking split peas instead of slow-cooking chickpeas
Cooking Green includes many recipes that illustrate the energy-saving techniques. I've just added Lapsang souchong tea to my grocery list so I can try her Tea-Infused Eggplant Salad. This recipe uses tea instead of smoke for a smoky flavor, sub-boiling and passive cooking to save fuel, and reuses the tea water to cook soba noodles. Because the recipes show her ideas in action, even the ones with meat and dairy can inspire Wildly Good Cooks to look at their whole cooking cycle a different way. Flavor combinations often hint at her Korean heritage, calling for sesame oil and hoisin or black bean sauce. But overall, the flavors are international, with Meatless Moussaka, Blue Oven Convection-Roasted Semi-Dried Tomatoes, and Chino-Latino Mixed Vegetables.
Let Kate Heyhoe show you how to steam your noodles without steaming up your whole kitchen during this sweltering summer!
tagged
Cooking Green,
Kate Heyhoe,
carbon foodprint
|
in
environment
|
Print Article