Jul 6, 2011
|
Linda Watson
|
Permalink
| |
Post a Comment
Tweet
Rating: 4 out of 4 spoons. Recommendation: buy a copy so you can underline it and quote from it.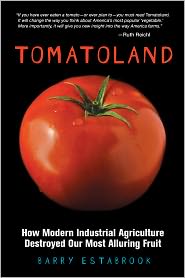 Warm weather seems to bring out the best food books. Not the recipe books, but the ones that look at how we produce food and how those choices affect our world. In 2006, The Omnivore's Dilemma changed how we thought about corn and Big Ag. In 2008, Animal, Vegetable, Miracle made us think about how far our food had traveled and fed the growing locavore movement.
Tomatoland is this year's irresistibly juicy page turner. Investigative journalist Barry Estabrook first exposed the horrific conditions in Florida's industrial tomato fields in Gourmet magazine. The article won a James Beard award (think Oscar) and allowed him to continue investigating sunny Florida's dark secrets about the $10 billion fresh-tomato industry.
Much of the book tells the story promised by the subtitle: How Modern Industrial Agriculture Destroyed our Most Alluring Fruit. You'll learn why "salad tomatoes" feel and taste like tennis balls: gassed from green to greenish-red without developing any unwanted softness or character. You'll learn why the big growers in Florida don't care about taste: it's too hard to breed for and anyway, taste happens after the sale, so who cares?
More importantly and grippingly, Estabrook described the forced servitude—the slavery—that the tomato pickers endure. Slavery is not too strong a term when shackles, shotguns, and brutal beatings keep unwilling workers on the job. Other "incentives" for working including manufactured and inescapable debts and threats to the workers' families and co-workers.
Are these rare instances? No. Estabrook talks to many brave and dedicated people fighting these practices, including U.S. Attorney Douglas Molloy, who cites the town of Immokalee Florida as "ground zero for modern-day slavery." Estabrook writes:
[Malloy] also says that any American who has eaten a winter tomato, either purchased at a supermarket or on top of a fast food salad, has eaten a fruit picked by the hand of a slave. "That's not an assumption,' he told me. "That is a fact."
Tomatoland's vivid reports of farm workers sprayed by toxic pesticides and the unspeakable birth defects that result should make even the most hard-hearted, price-sensitive shopper go organic. A scene I can't get out of my mind tells of an "Anglo" supervisor who accidentally splashing himself with chemicals that regularly drifted onto the farm workers. The supervisor screamed, ripped off his pants, and was rushed into town for care. The farmworkers exposed to the same poisons are told at best to sit down for a few minutes and drink water.
But if Tomatoland were all gloom and despair, I wouldn't be urging you to read it. Estabrook also introduces you to a wide range of people trying to create decent conditions for the workers, better environmental practices, and yes even tasty tomatoes. Read moving interviews with day-care operators, lawyers, housing developers, tomato breeders, and sustainable farmers. Tomatoland's David-and-Goliath vignettes make it a page turner, complete with spies and prison breaks. These sections not only offer hope and a few laughs. They also suggest ways to vote with your fork against slavery and poison and for human dignity and fragrant, heavy, truly ripe tomatoes.
Who should read Tomatoland? Everyone who eats. Everyone who cares about babies, social justice, immigration, the environment, or good food.
What groups should read and discuss Tomatoland? Book clubs. Co-ops. Farmers' market associations. Groups interested in ethics, from churches to political organizations. Next summer, I hope many universities pick Tomatoland as the freshman book assigned to all incoming students to stimulate conversation across disciplines. This lively read would provide a starting point for conversations on everything from architecture to genetics to writing.
Like this post? Subscribe for free recipes and food news
twice a month or 6 times a year.
Print Article
|
Email Article
in
book review,
food policy
|
tagged
4 spoons,
Barry Estabrook,
Tomatoland,
organic,
tomatoes